Myanmar Insight2019 set to attract Thai investors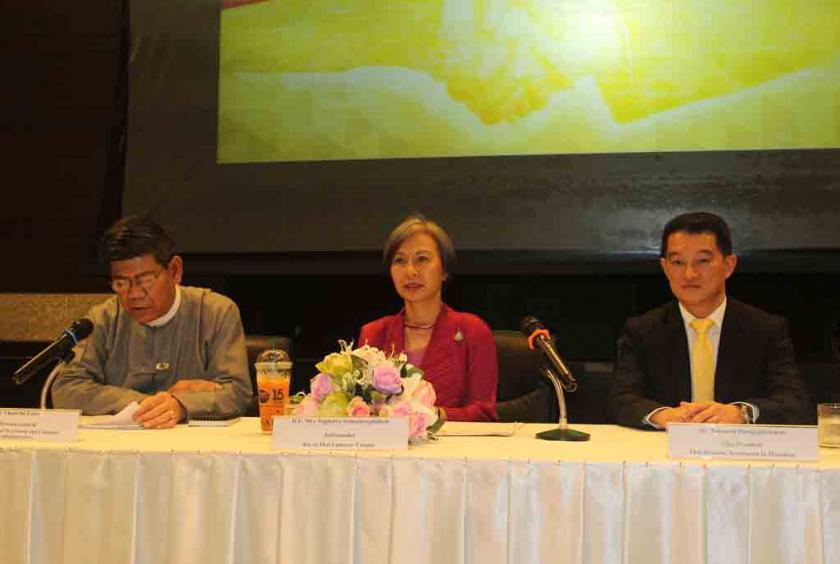 Thant Sin Lwin, director general of the Directorate of Investment and Company Administration, said at a recent press conference that Myanmar would take advantage of the full-day event to explain its business-related laws and regulations. The event will be held at the Centara Grand Hotel in Bangkok on August 23.
"Our high-level delegation led by the chairman of Myanmar Investment Commission ThaungTun will be there to publicise all the updates Thai investors need to know," he said.
The official said the event would help Thai and foreign businesses unlock "enormous opportunities" in Myanmar.
"We will arrange the best speakers to attract more Thai investments to Myanmar," he said.
"Today, Thailand is the third largest investor in Myanmar [after Singapore and China] in terms of the value of investment among the permitted enterprises, accounting for 14 per cent of our total foreign direct investment [FDI]. We hope it will remain the same in the months to come."
The Myanmar Sustainable Development Plan (MSDP) and Project Bank, which unveils the government's prioritised projects, will be among the key topics for discussion at the seminar.
Thai Ambassador to Myanmar SuphatraSrimaitreephithak says the plan as very comprehensive and integrated.
"I am a believer in MSDP. With the implementation of both MSDP and MIPP, it is very timely for Thai private sector and government officials to get to know more about the updates," she said.
"This year, we have seen Myanmar's economy is growing stronger and stronger. With MSDP, I believe that whoever wins the elections, will be able to drive this country towards the development path."
Bilateral trade for the first half of 2019 exceeded US$3.85 billion (Bt119.22 billion), up by $21 million from the same period last year, according to Thailand's Ministry of Commerce.
Last year, bilateral trade was recorded at $7.64 billion, up by 12.58 per cent from the previous year. Thailand's exports to Myanmar grew by 7.35 per cent at $4.6 billion while Thailand's imports from Myanmar rose by 21.6 per cent at $3 billion.
"We have a trade target to accomplish. Both sides have agreed to increase our trade volume in the next three years," said the envoy.
Suphatra said the upcoming 2020 general election results would not have major impact on Thai business interests in Myanmar.
"We see much room for bilateral cooperation. We hope this event will result in closer ties between Thai and Myanmar officials as well as among the Thai private sector," she said.
"The future of politics in Myanmar depends very much upon its citizens. But as we are close neighbours of Myanmar, we only hope that the best will happen in this country."
NattawinPhongsphetrarat, vice president of the Thai Business Association of Myanmar (TBAM), which co-organised the event with the Royal Thai Embassy, said that retail, wholesale and manufacturing sectors would be prioritised.
"We look at it as a gateway to attract Thai and foreign businesses to do business in Myanmar," he said.
"We are developing the Myanmar Insight as a living seminar. This year, new economic policies have been developed by the Myanmar government, and officials will share the updates with our participants."
Nattawin expects to accommodate more than 600 Thai business people this year, the same as the previous three events.
"There, we will hear about the projects that Myanmar wants to push forward. As we are complementing each other, I am sure more and more Thai companies will participate in these projects," he said.
"Additionally, Thai business people in Myanmar will share their experiences and success stories with businesses back home so prospective Thai investors can be well-prepared and inspired to enter this market."
According to Nattawin, the seminar is open to members and non-members of TBAM. Tickets cost Bt2,500 for TBAM members and Bt3,500 for non-members.
"I am confident that we will attract more Thai investors to Myanmar this year. We are ready to support Thai businesses that are keen to expand to Myanmar in every possible way," he said.