41st international jetty, International Bulk Terminal Thilawa opened in Yangon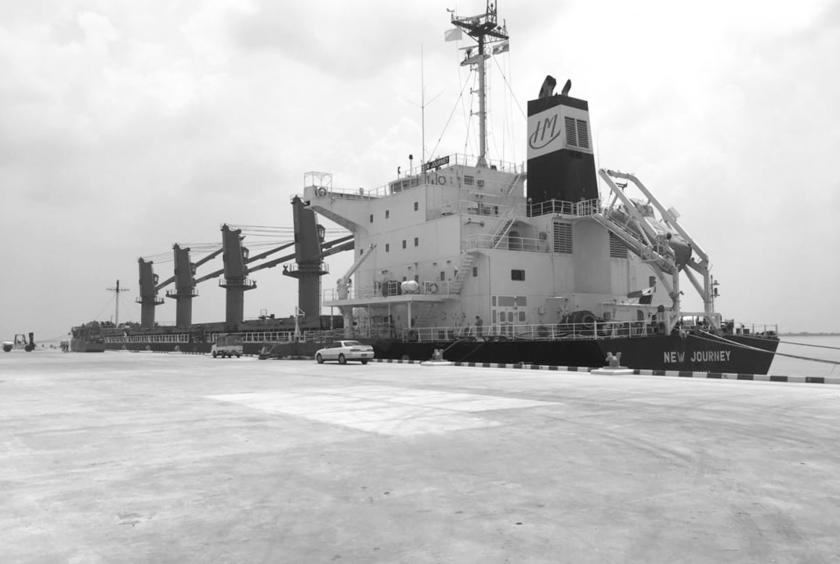 A vessel seen moored at International Bulk Terminal Thilawa.
The 41st international jetty at Yangon port including Thilawa port and International Bulk Terminal Thilawa (IBTT) have been opened and port activities have started there, according to sources from the Ministry of Transport and Communications.
Located on 20 of 61.77 acres of land at plot No.30 (30+32) (A) in Thilawa port area, Kyauktan  Township, Yangon Region, the international jetty and IBTT were built by IBTT Co Ltd founded by Lluvia Ltd, a branch of Diamond Star Co Ltd, Kamigumi Co Ltd and Japan Overseas  Infrastructure Investment Corporation for Transport & Urban Development (JOIN).
"It is heartening to see that IBTT was able to open a multi-purpose international jetty to provide port services of international standard. The success of IBTT will be a landmark of the friendship between Myanmar and Japan. Our ministry and Myanma Port Authority will be fully cooperating in line with the procedures so that ocean-going vessels can be moored at the IBTT jetty and we can well handle agricultural products such as wheat and crops there," said Deputy Minister for Transport and Communications Kyaw Myo.
IBTT was built with an investment amount of Myanmar kyat equivalent to US$65.44 million including US$38.86 million. Behind the 230-metre jetty, 13 tanks with a storage capacity of 6,600 metric tons and a warehouse with 5,400 square metres were built in two years in line with the requirements set by MIC (Myanmar Investment Commission).
In three years, eight new international jetties were built in Yangon and port activities are being carried out at 41 jetties.
Yangon port handles over 90 percent of international maritime trade in Myanmar.
Eleven Media