Ousted landowners protest calling for compensation for land seized in Botataung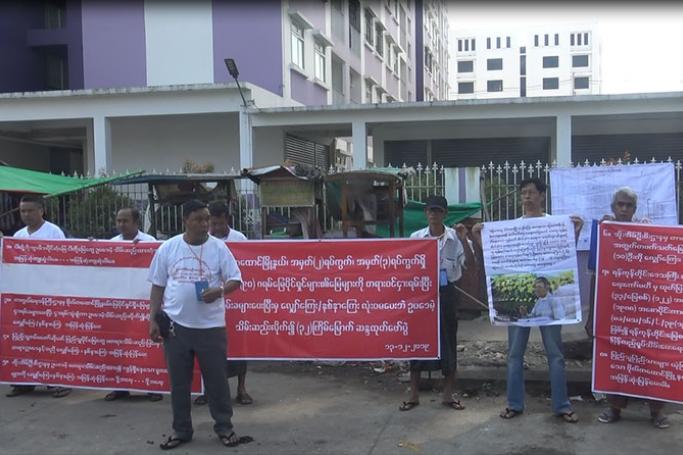 Protesters in demonstration and leader Myint Aung in this protest.
Over 70 former landowners who have 90-year lease grants in their possession staged a demonstration on December 13, demanding compensation for lands in Botataung Township seized from them.
They staged demonstration by marching in procession from the new COD apartment buildings, Merchant Street, No. 3 Ward of Botataung Township to the Housing Department Office in Bogyoke Street.
Myint Aung who led this demonstration said, "We are holding the valid and genuine lease grants. The government had already given compensations to some of us who lived with us together in the same compound. We hoped we would get compensation as we submitted our applications together."
He said they were the rightful owners of the land plots and that they would continue their protest for compensation.
The Ministry of Defence first rented these COD plots of land in Botataung Township from their original owners for building an Ordnance Depot in 1974 and then the ministry seized the plots of land from their owners.
Earlier the land owners demanded compensation and the then President Thein Sein's government gave one flat in Time Square, Botataung Township and 32 million kyats each to 277 land owners in 2015 in compensation. But the protest demonstration leader Myint Aung said that about 70 land owners were still remaining to be paid compensation.
The protesters said that over 70 original land owners who had freehold grants and had not yet received compensation for their lands, had staged similar protest demonstrations since 2012 and that they had staged demonstrations over ten times since the National League for Democracy-led government had taken power.
The protesters said that this latest demonstration was their 32nd protest.
From: Mizzima